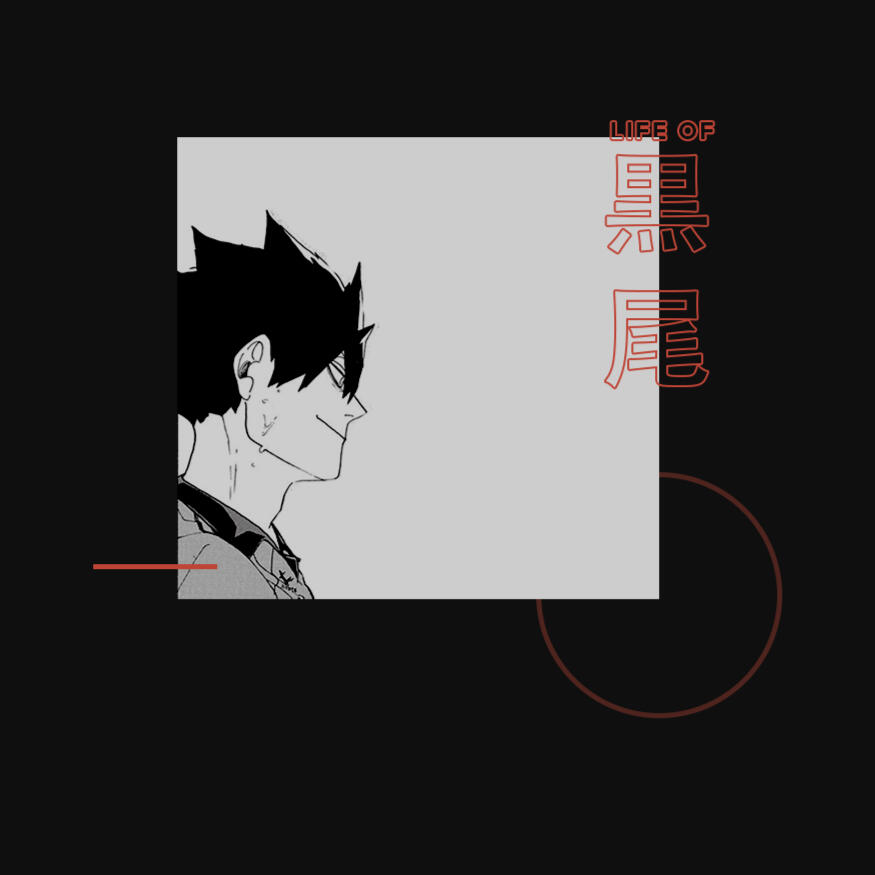 life of kuroo
---
HAIKYUU KUROO ZINE
The FAQ may also be read in a document format here.
---
GENERAL QUESTIONS
What is a zine?
A fanzine, zine for short, is a term combined from the words "fan" and "magazine." It is a booklet made for fans by fans. It is a non-official publication either in the form of a PDF or physical book, often containing a mix of artworks and written works for a specific series, fan group or event. Fanzines come in various forms and shapes, some even come with extra merchandise such as stickers or acrylic charms. Each zine can have different content depending on their theme and type, and can be done for-profit or for-charity.

Will this be a physical or digital zine?
The zine will be available both in digital and physical versions!

Is this a for-profit or for-charity Zine?
This zine will be for-profit.

Will this zine have ships? Will other characters interacting with Kuroo be allowed?
We want to focus on Kuroo, and his life and his general relationships for this zine, so we will not be allowing ships. While romantic relationships will not be allowed, platonic relationships and works where Kuroo interact with other characters will be allowed!

Is NSFW allowed?
Sexual NSFW will not be allowed as this is a minor-friendly zine. For other topics like blood, violence or horror themes, they will be decided on a case-to-case basis.

Will spoilers be allowed?
Yes, since we want to focus on all parts of Kuroo's life, we would like to cover parts of his past and future which only get revealed later in the series.

Where can we contact the mods?
Mods can be contacted through our social medias hqkuroozine @ twitter, tumblr and instgram.
We can also be reached by email: [email protected]
---
CONTRIBUTOR QUESTIONS
What kind of contributors are you looking for?
We will be looking for writers, comic artists, page artists and merch artists.

I didn't finish Haikyuu, can I still apply?
Yes you can! As long as you have met Kuroo in the manga or anime. However, since we will be covering multiple parts of Kuroo's life, there will be a risk of encountering spoilers.

Do my samples for contributor apps need to have Haikyuu/Kuroo samples?
While it is not required to have Haikyuu! samples in your application, it is very appreciated, even more so if you have anything with Kuroo! We will include an optional field just for Kuroo works in the contributor apps.

Are traditional works allowed? Do you accept traditional works?
Yes, we accept traditional works. However it will be required of you to provide a high-res file with a minimum of 300 DPI for the final piece. We will also ask you to clean the artwork for dust particles and colour correct accordingly.

How will contributors be compensated for their work?
We will ask contributors for their preferred payment method and discuss it with each contributor individually.

Can I apply for multiple positions?
Yes. In case you want to apply for both artist and writer, you will only be accepted as one position. Artists who sign up for page illustration, comics and merch can be selected to do max 2 positions or only one.

Can I join if I don't have Discord?
Yes! While Discord will be our primary communication tool, we do accept contributors who do not have Discord. We will keep you updated and send you announcements through your preferred communication method, but we will require you to stay as active as if you were in the Discord.

Do merch artists have to produce merch themselves or just provide the design?
Merch artists will only be required to provide the design of the merch they are producing. All merch requirements and specifications will be given prior to the merch production.

Can artists and writers collaborate?
Yes! We will be asking in the contributor apps if you would like to collaborate with someone. After joining the server, you are allowed to reach out to other contributors for collaborations.

Will minors be allowed to contribute to/purchase the zine?
The minimum age requirement for joining the zine will be 16. Since this zine is going to be for-profit, how monetary compensation will be dealt with for minors will be discussed with the involved parties.

We will be using a storefront when we open preorders, and if minors have access to a credit card, gift card or PayPal from their parents, they will be able to make a purchase.

What considerations will be given to contributors/buyers outside the US?
We will be shipping internationally as long as your country accepts international parcels. Due to covid, we can't be sure how and which borders will be open or closed. However, we can hold onto your parcel and ship it as soon as borders open.

We will make an update before preorders open with which countries we can ship to. In case some countries have limited imports, we will see if we can arrange alternative shipping options such as group orders to a closer country that might have the ability to ship it to you.
INFO
Life of Kuroo Tetsurou is a zine focused around Kuroo and his interactions throughout his life.
The zine will be split into 5 chapters where each chapter will have a focus on one of the the following time periods: Childhood, High school, Post high school, Future and an AU/Solo section

do not remove
do not remove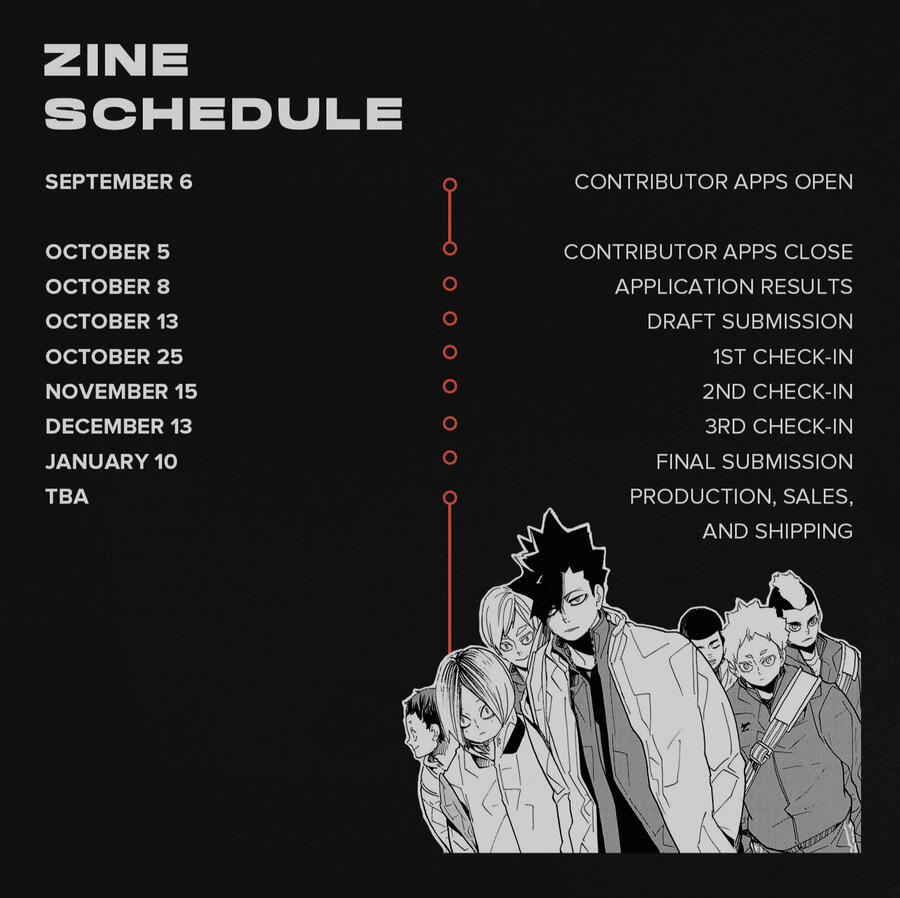 NEWSLETTER
Want updates on the zine without constantly checking social media? Sign up for the Life of Kuroo Tetsurou newsletter for monthly updates straight to your inbox!

Sign up here

do not remove
do not remove
TO CONTRIBUTOR APPS CLOSE
CONTRIBUTOR APPLICATION GUIDELINES
The guidelines may also be read in a document format here
---
For all contributors
Please do not include NSFW samples as this is a gen zine.

If applicable, please include trigger warnings or content warnings with your samples.

Although not required, it is highly recommended to include Kuroo content in your samples as this zine is about him. We want to see how you interpret him!

Though you can sign up for multiple roles, you can only be chosen as either an artist or a writer. You'll be able to indicate which role you prefer on the application.

All contributors can provide their preferences for time period (Childhood, High school, Post high school, Future and an AU/Solo section) and whether they'd like to portray Kuroo interacting with other character(s) and with whom. Please keep in mind the focus should always be on Kuroo, so drawing/writing him solo is more than welcome too! We'll try to accommodate preferences as much as possible, but flexibility is much appreciated.

No experience is necessary for any of the roles. Though if you do have experience with producing merch for example, feel free to include it in the comment section and share links. We'd love to see it!

For artists
If you provide Google Drive or other file sharing links, PLEASE CHECK THE SHARING PERMISSION.

We will be looking for 3 types of artists.You may sign up for all three, but you will only be chosen to do 1 or 2 of the roles.
Page illustrators
Comic artists
Collab/Merch artists - collab theme will be decided together with the writer

For all artist types, please only submit completed works for samples. You can have sketches in your portfolio, but we will not be judging you on those and will only look at the finished art.

You can use any site you want as your portfolio.
If you use Google Drive, PLEASE CHECK THE SHARING PERMISSION
If you use social media sites like Tumblr or Twitter, please direct us to your art tag or a Twitter moment with your art for easier viewing.

Free assets are allowed as long as they are completely free for commercial use/royalty free.

Haikyuu pieces are not mandatory but recommended.

Feel free to do a quick sketch or simpler art piece for the optional Kuroo section. We'd love to see how you draw him!

Page illustration
Please include samples with a background
Comic artists
Please include a comic as a sample.
Artist collab / merch artist
Pieces without a background are allowed.
If you want to apply as a merch artist, please include a sample of your chibis or chibi-like style.
It is not required, but feel free to include images of your produced merch in your portfolio.
For merch artists who want to do merch items with more space like prints and bookmarks, please consider including a sample with a simple background and non chibi samples. However, it is not mandatory to do so.
Although not mandatory, if you have art pieces of objects/items/pets (i.e. animals, plants or food), we would love to see them in your portfolio too.

For writers
Please only submit samples between 1k~3k words. At least one must be a completed fic, but the others can be excerpts.

You don't have to include Haikyuu samples, but they are highly recommended. Feel free to write a quick snippet for the optional Kuroo sample section if you don't already have a Kuroo piece.

Writers will be asked to collaborate with an artist, and your concept pitch will be decided together.